The basic version Pottery Apron has one neck loop and a belt with a fastener. (If you prefer the belt with ties, just write me, and I will make an apron for you to order)
The straps are adjustable in length, so the apron fits for people of different sizes
For better protection, there are clasps at the bottoms, these panels can be wrapped around the legs, creating a semblance of overalls.
Kids pottery aprons and plus sized aprons are available by order
To ensure a wide range of products, I sew aprons of the same color in small batches. I have 3-4 colors of aprons ready to ship each time, and another 3-4 colors the next time.
These aprons in standard sizes you can buy right now!
Basic pottery aprons size M
Perfect for height 160 - 170 cm. (5'3 "- 5'7") clothing size S-L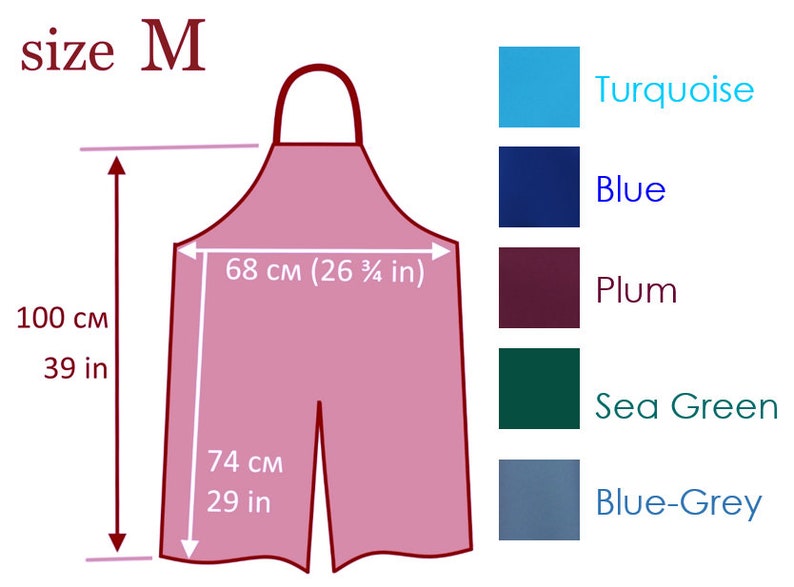 Basic pottery aprons size S
Perfect for teenagers and short adults, height 140 - 160 cm. (4 '9 "-5' 3")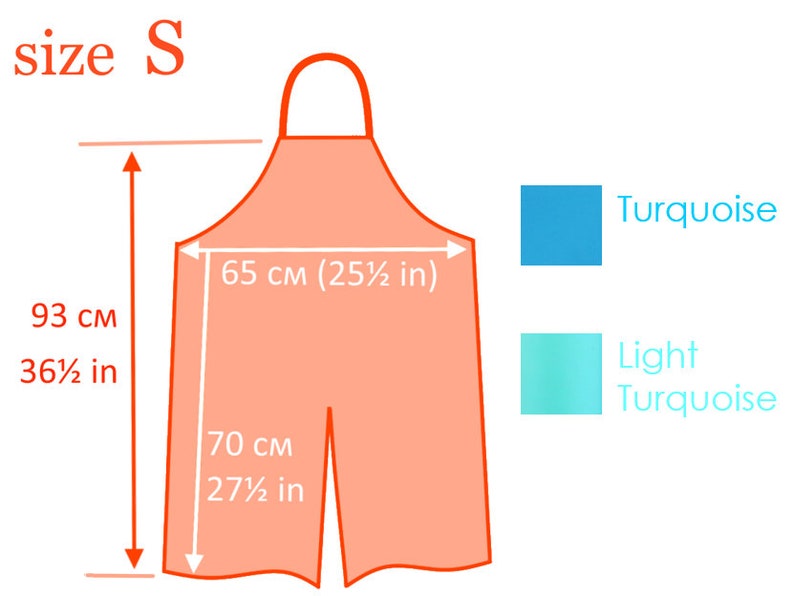 Wide pottery apron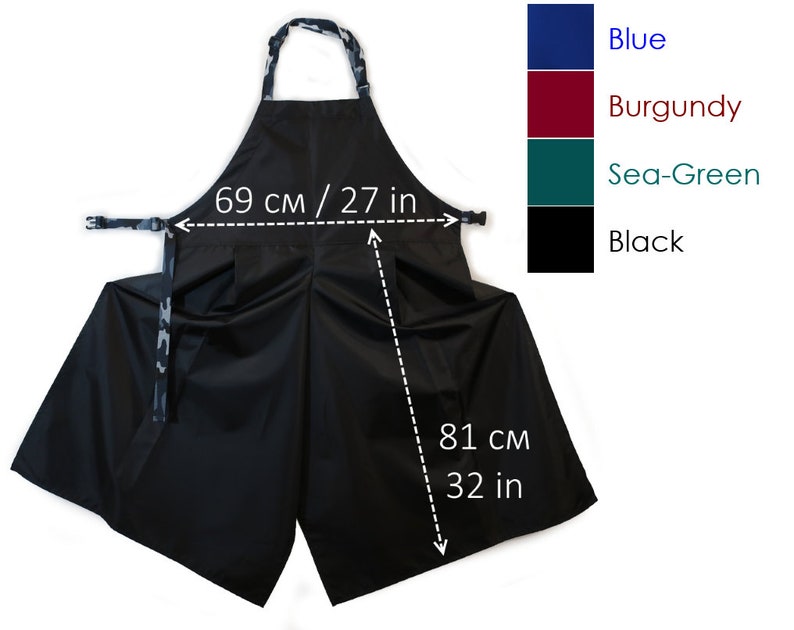 The wide version of the basic Pottery Apron has a one-piece seamless bib and a slightly wider skirt. This apron is ideal for placing a logo on it.
Perfect for height 165 - 175 cm. (5' 5"-5' 9")
Large Size aprons ready to ship
Warranty
Aprons are made from high quality materials on professional equipment, neatly and thoroughly. Fabrics for each model are specially selected, samples are pre-tested. All materials have quality certificates.
If the buyer complies with the care recommendations, the aprons withstand at least five years of intensive use. In case of damage to the accessories, I will send all the necessary replacement parts for free upon your request.
And moreover, I conscientiously and responsibly relate to the quality of my products. I want the everyone, putting on my apron, to be happy and remember me with a kind words for many years. Therefore, if suddenly the apron does not suit you - send it back to me, I will replace it with a more suitable one or return the money to you.
Reviews
I am very grateful to all the people who took the time to write to me personally about their impressions of the aprons and left feedback on my social networks.
Your reviews, especially photos, as well as questions and suggestions help me see and understand: what else can be improved, added or changed, so that the aprons become the best.
Here are some reviews from my Etsy shop. If you want to share your opinion too, I will always be happy to hear from you too!
Erika: "This is the best non absorbent potters apron I have owned. The design provides excellent coverage when throwing at the wheel and when walking around the studio. It is extremely well made and the lavender/periwinkle color is lovely. I highly recommend this apron."
Helene: "Très satisfaite de mon achat ! De très belle qualité et avec une belle finition. Je recommande !"
Peggy:"I just received my apron, and it fits beautifully! The workmanship is very high quality. The design of the apron will really protect my clothes when working on a potter's wheel. I highly recommend Tatyana to one and all."
Rosemary: "This is a lovely item, and so well made. My daughter, who received it for Christmas, put it on and wore it all morning! It's as much a fashion statement as a useful item. We are very pleased with the purchase. Thank you!"
Custom pottery aprons
I hаvе developed several original types of aprons for different works and creative activities.
Special models for women
Folk style aprons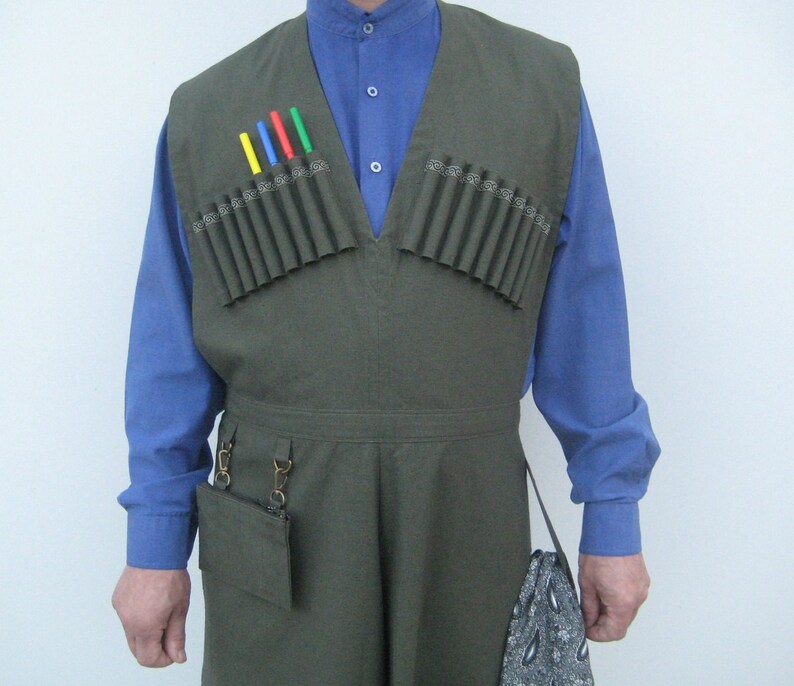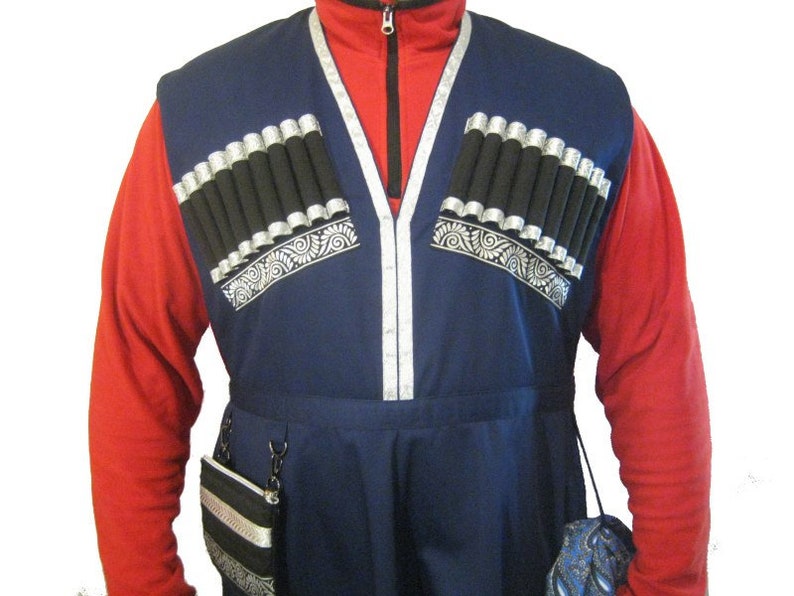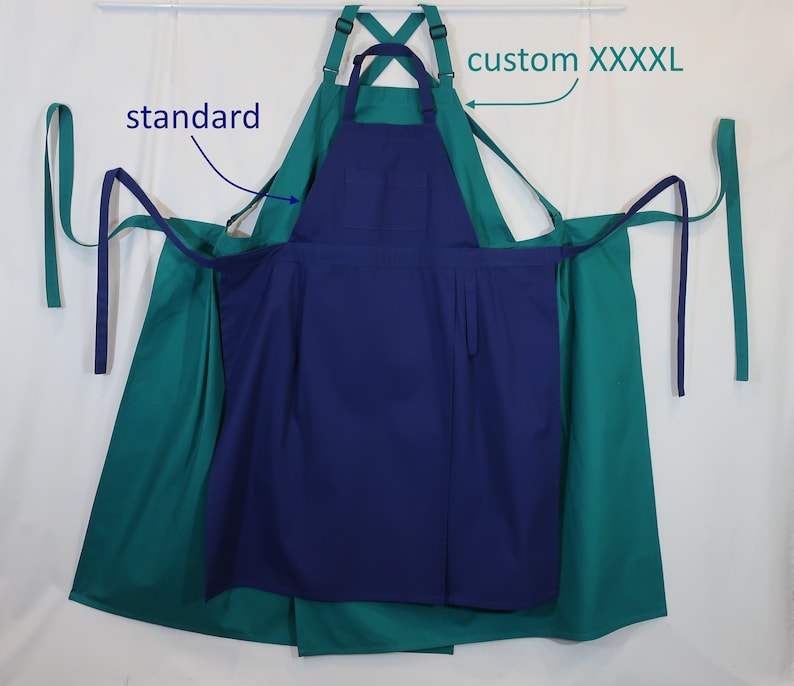 I produce aprons of any size: adults and kids, for non-standard bodies, tall and short, small and extra large sizes, for women and for men.
Also, in addition to the apron, you can order: arm ruffles, headgear, tool bag, work dress, etc. - so you will have a complete set of comfortable work clothes.
Logo placement on aprons and other things is possible.
Custom apron production time - 14-30 days.
To make personal order, please e-mail or contact me in my social networks.
Shipping
I send aprons all over the world by Russian Post. After sending it, I'll definitely send you a number for tracking.
Normal delivery takes 14-21days, depending on the distance.
If you need express delivery, please contact me before placing an order.